How to Get Rid of a Bed Bug:- It's easy to leave a place when you are in a room full of people bugging you but what will you do when you have bugs bugging you right in your own room? Can you not let it bug you forever right? In the following article, we have come up with the best methods that you can practice to save yourself from these annoying bugs.So if you are working somewhere and not getting enough time to call a professional pest controller or if you are not able to afford a good pest control company in getting you rid out of these bed bugs then all you need is little perseverance, a little patience and techniques but before that lets just talk more about bed bugs first.
What are Bed bugs?

Bed Bugs are the insects feeding solely on blood. They are the parasite insects that belong to the mimid family. Bed bugs are the bugs that are found in your beds or any such areas of sleep. These Bed bugs may vary in their colors and sizes. Bugs that are of reddish brown in color are the adult bugs. Adult bed bugs are oval in shape and they have no hind wings.They have microscopic hair and are of about 4-5 mm long and 1.6-3 mm in width. Talking about the newborn, they are light in color they are the ones who turn into a darker shade of brown later on. They can survive in temperatures below 16.1 °C.
Treatment for Bed Bug
Step1- Prepare your room for the Treatment
So before you start your treatment firstly you have to look for the rooms that are infected with bed bugs. Not just the rooms that are infested but also the rooms that are connected or attached to the rooms infected. So start by categorizing the belongings of your room into two categories
1- that can be treated
2- that have been treated or are not in a condition to get treated or are fully destroyed by the bed bug.
After doing this you should make sure that you have covered the items that you are planning to shift or remove from your room so that if there are any bugs present in that thing then too the other room couldn't get infested. Be it any painting, or any wall hanging or any mirror etc. remove them all but not before checking them. And hey if you have mattresses that are infested and needs to be disposed off then make sure you throw them wrapped in a plastic bag to warn the sanitary workers. If in case you have belongings that you need to keep with yourself then do wash them thoroughly, things like your garments, bed sheets, quilts etc.
Products that you might need for the above could be Mattresses safe soft cover, Nuvan pro strips etc.
Step-2 Treatment of tufts, crevices and folds
Just like in most of the cases the mosquitoes get used to the substances that you use to treat them within the same way these bed bugs get used to pyrethroids which makes them prone to the substances used in products to kill them. This increases their resistance power and which end up making their treatment for difficult. And therefore it is always recommended that these bugs should always be treated with the variety of products.
For example, you can use the aerosol spray for the treatment of bugs in your mattresses. Be it the seems or the tufts or the folds of the mattress, damp it well to kill the bed bugs and allow the mattress to dry well before using it again. After the mattresses, use the spray to treat other infected areas of the room such as the walls, the corners the tables of the room etc. This can be done using a concrete insecticide.
Step3- Killing of the Bed bugs that are Alive

So once you have gone through the steps mentioned above, next you got to focus on the bed bugs that are alive. For this, the product that is recommended the most is Steri Fab. So this product is made from the combination of synthetic parathyroid insecticide and isopropyl alcohol. This is one very effective product and starts working within few minutes of its spray.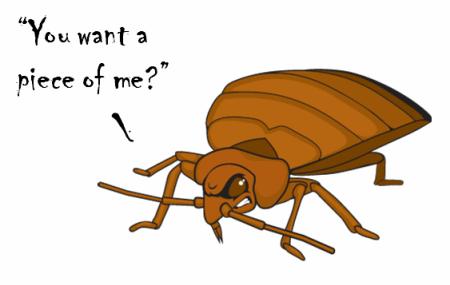 Step4- You must repeat the process again
If you think that's the end of the story, then no my friend there is a lot more to it and that's what I meant in my sentences above that you will need a lot of patience and delegacy during the entire process as this is not a onetime activity, rather this is the process that has to be repeated and revised again and again to avoid and absolutely get rid of these annoying bed bugs. Do it for a time span of about 10 weeks to get the satisfactory result.
Bed Bug bite treatment
So now that you know the reason of pus and blisters and itching on your skin is that of a bug bite does not forget to treat yourself too. All you got to do is wash the areas bitten and infected by the bed bug with the help of soap and water or corticosteroid can also be used. This will help you not only in decreasing your itchiness but also will cure the bites too. You may consult a doctor if you don't get any relief from the above.
Hope this article helps you in getting rid of the bed bugs.
Also cheek:- If you want to learn easily Draw the panting so you can also check this How to Draw post