Voting is a legal right and also a duty for every citizen so as to participate in a democratic process. It is a medium through which people can choose their government and also their leader. Voting gives you a medium of expression and a platform where your voice can be heard. Every vote counts, therefore before the elections it is really important to know the voting procedure as well as how to vote. It is not a difficult task but still, some preparations need to do before you actually go and cast your vote. In this article, we will provide you with the full process of how to vote. How to Vote in the US
How to Vote?
Requirements: There are some requirements given below which a citizen must fulfil in order to cast a vote.
You have to be 18 years old and above.
You have to be a permanent citizen of US.
You cannot be serving a sentence in a prison.
If there are state elections then you have to be the resident of the state.
Get yourself registered: Visit org, there you will get a registration form; fill it in order to get yourself registered. Through this website, you can also check whether you are already registered or not. In case of change of name, address or any other important information you need to register again with the changed information.
Other ways to get registered
A person can go to any of the following locations to get himself registered: election offices, the Department of Motor Vehicles (DMV), state's voter registration office, the Armed Service recruitment centres, public assistance facilities, or state-funded disabilities centres.
In the US there are 20 states that allow the online registration. Check whether your state falls into that category, if yes then visit Federal Election Assistance Commission site and complete the registration process.
Fill out the National Mail Voter Registration Form.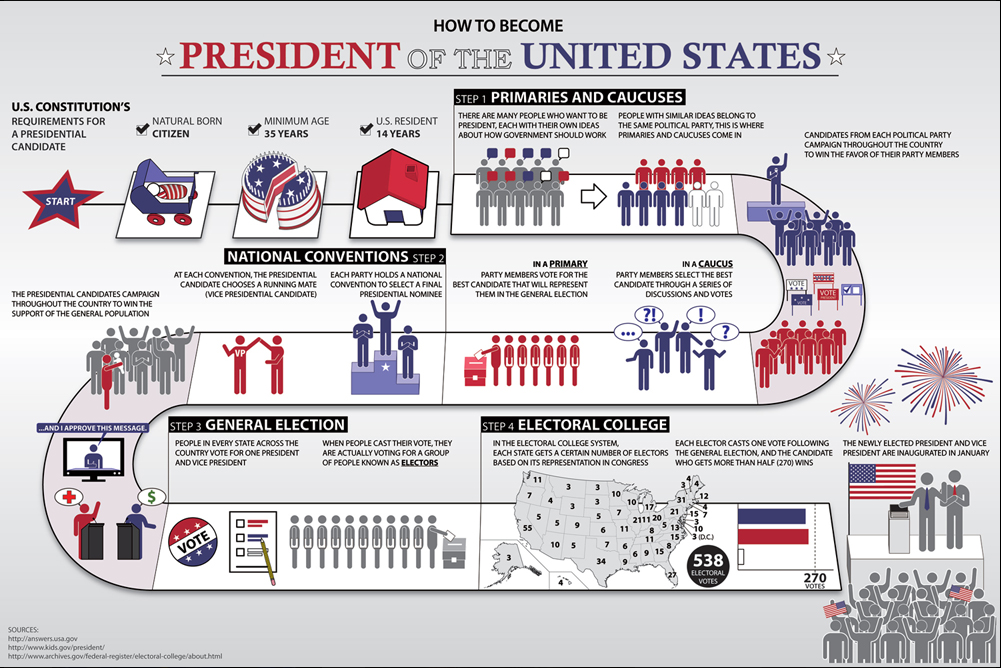 Find out your polling place: there will be a number of the polling place at the time of elections but you can only vote at your polling place. Find out well in advance your polling place with the help of your state's election office or visit org.
Get a sample ballot: Familiarize yourself with your state's ballot with the help of sample ballot.
On the day of voting go to your polling place: After reading the sample ballot you will know if you need to bring some identity card for identification purpose. In case of any doubt or questions, you can ask the official volunteers who are there to help.
Fill the Ballot: there are four types of ballot systems you can run into which are Optical Scan Paper Ballot Systems, Direct Recording Electronic (DRE) Systems, Ballot Marking Devices and The Punch Card Ballot.
Review your Ballet: Before the final submission, make sure you review your choice and that your ballot was casted
Absentee or Early Voting: For some reason, if you are not present on the day of the voting you can opt for absentee or early voting. Write your name, address, ward and the address where you would like to send your absentee ballot and your signature and send it to your city election commission. Wait for your ballot to arrive, it will come 4 to 50 days before the elections day. After receiving the ballot, read the instructions carefully and fill your ballot mail it to your city hall. You will find the address written on an envelope.
See also:- How to get a passport in India
Now that you know how to vote, never miss an opportunity to cast your vote.